Thanks to the fur kids always digging little "nests" to sleep in on our bed, two fitted sheets have become destroyed in recent history, leaving us with lots of flat sheets and just one fitted sheet. (Case in point is this fun iphone picture I took the other night of the two culprits. 

 Maybe The Martha knows how to make a bed that stays made with two flat sheets, but I sure don't.  Trying to be practical at first, I headed up to Target to buy a few fitted queen sheets to discover that everything comes in sets.  I trolled around the interwebs a little as well, looking for that elusive el-cheapo fitted sheet.  The prices on individual sheets were so high that the most logical thing to do seems to be to get a whole new set.  Rats.
So  then I started dreaming of the possibilities.  To date, we have only ever bought white sheet sets, and that's pretty boring.  There's a world of colorful and patterned sheet sets out there.  But really, our bedroom needs a total overhaul and we really REALLY need to get a proper bed.  (I hope you read this JT).  Why you may ask.  As you may or may not be able to tell from the crappy picture above, our box spring and mattress are sitting on the floor.  Yep.  And after 6, soon to be 7, years of wedded bliss, my beloved and I have never purchased a marital bed.  It just doesn't seem right.
So while visions of a new bedroom swirl in my head, I thought I'd browse around the sheet sets for some inspiration.
Crazy Idea #1) I realized this isn't crazy colorful and is totally devoid of all patterning but monogramming is a shot in the heart to me, the collector of the letter "T".  And they're organic cotton which I think may be a prereq for these new sheets.


West Elm  Organic Cotton Frayed Edge Sheet Set
Crazy Idea #2)  This next set I may have to go see in person to check out the colors but melikes the pattern for sure: Digital Herringbone!
 Anthropologie Digital Herringbone Sheet Set
Crazy Idea #3) This next one is called "Light Aqua Stripe".  You had me at hello!  Even better, the stripes seem to vary in width.  Yum yum.
 

Lands End Organic Percale Printed Sheet
Crazy Idea #4) The Company Store — the melon/teal option on the bottom was a strong contender for me until I saw it was no longer available as a fitted sheet.  Blasted fitted sheets!!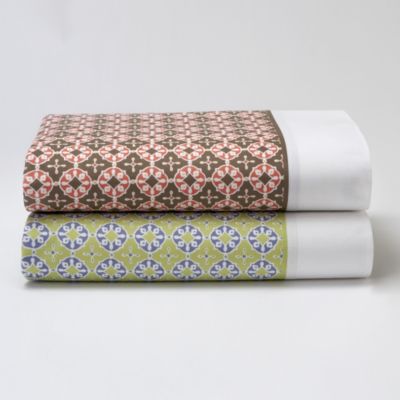 Company Organic Tile sheets
Crazy Idea #5) Not organic, but GORGEOUS . . .


Kate Spade Fairmont Stripe Sheet Set
So my new Google Chrome browser exploded from too much bed linen fun and I still haven't decided.  I think the answer will be to make a finish board for the bedroom.  I do them all the time at work but have never yet put in the energy to do one for home.  Any favorites out of the choices above?  I have one!!